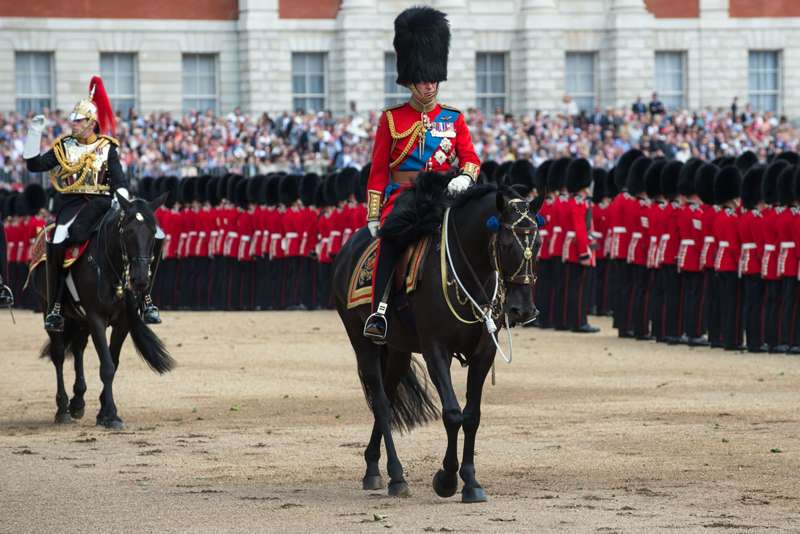 New Zealand Society (UK) presents:
Trooping the Colour 'The Colonel's Review' by HRH the Prince of Wales
SOLD OUT
Entry Requirements: 12+
Exclusive amazing tickets for NZ Society front row in BLOCK A4 facing the colour! The event is sold out for the general public! Limited £22.50 tickets available, includes souvenir ticket and supports the NZ Society
Trooping the Colour reviewed by His Royal Highness The Prince of Wales is identical to Trooping the Colour reviewed by Her Majesty The Queen, with the exception of some additional mounted officers who ride when Her Majesty The Queen is present. Trooping the Colour reviewed by His Royal Highness The Prince of Wales also includes over 240 soldiers from the 1st Battalion Grenadier Guards who will line the route down The Mall.
Taking part will be up to 1450 soldiers of the Household Division and The King's Troop Royal Horse Artillery, along with up to 400 musicians from the Massed Bands, all of whom will parade on Horse Guards for the second of two formal Reviews.
The soldiers will be inspected by His Royal Highness The Prince of Wales, Colonel Welsh Guards.
WHAT TO WEAR This is a formal military parade and those attending are encouraged to look smart.
Lounge suit or jacket, tie and trousers; equivalent for ladies (no denim, shorts or sandals).
Serving Military personnel may wear Ceremonial Day uniform (with medals) or equivalent.
NON COMPLIANCE WITH THE DRESS CODE WILL RESULT IN REFUSAL OF ENTRY.
Hats are optional but are recommended for paying the necessary compliments to His Royal Highness The Prince of Wales and the Colours as they pass, as well as giving the necessary protection from the sun. Umbrellas/parasols are not permitted to avoid obstructing views.
Please also consider bringing a coat as the Stands are not covered and the weather can change during the course of the Parade.